Album Review: THE WIZRD
Hang on for a minute...we're trying to find some more stories you might like.
To kick off the new year Future released a single titled, " Crushed Up " which lead to the announcement of his 7th studio album, THE WIZRD soon to be released on January 18th. The LP consists of 20 songs, included in it are features from Young Thug, Gunna, and Travis Scott.
Future first broke out onto the rap scene in the early 2010s by appearing on XXL's 2012 Freshman Class List. Since then, thanks to multiple releases of highly critically acclaimed mixtapes and albums such as Honest (2014), Monster (2014), BEASTMODE (2015), 56 Nights (2015), DS2 (2015) and What A Time To Be Alive with Drake (2015), the ATL native has established himself as a pioneer to the city's iconic trap sound were bass-heavy 808 drums, grimy rhythmic snares, and the usage of multiple hi-hats rule the airwaves.
" You can feel the pain when I'm rappin' 'cause I'm ragin' "  –  Never Stop
This album consists of the classic autotuned, melodic story-telling of love and constant drug dependency that is at a battle with one another which has been Future's specialty. On many of these tracks such as Never Stop where he says the lines, " Love is just a word, it don't matter to me ", Nayvadius often goes back and refers to his struggles of love in his songs by describing his previous relationships which include tormented heartbreak that tends to his desperate need of escaping the reality of revealing his emotions to his partner is one of his fear and by then turning his pain into poetry.
Throughout the album, he comments on the current situation of rap in the song " Krazy but True " where he boasts his influence and inspiration on newer and upcoming younger rappers with the lines,
 " You need to pay me my respects / Your socks, rings, and your lean / The way you drop your mixtapes, your ad-libs and everything / Damn, that's crazy, but it's true ". 
In 2018, a wave of disregard and lack of respect towards the OG's (those who came before them), was a conflicting issue between different generations of rappers. Future with this line comes into 2019 immortalizing his status as a father to the new generation which has been influenced by his music and sound.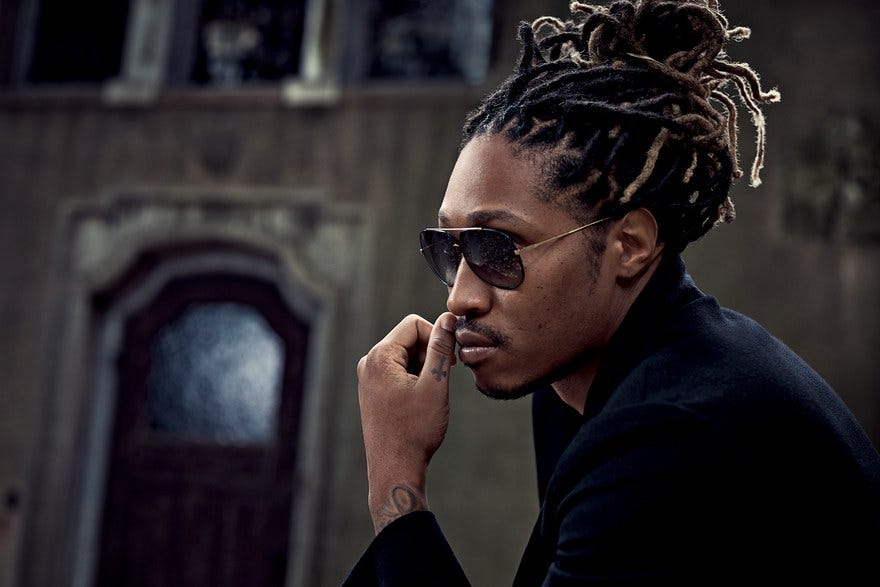 His also depicts his rise to fame on " First Off  " in which he raps," Yeah, I'm back on the Forbes, crazy / I make more than Dwyane Wade, baby". Backed by the never-ending rightfully positioned Travis Scott adlibs, this hitmaking dual of Hendrxx and LaFlame, which we have witnessed before on " 3500 " is another likely combination of success. They both express their lucrative multimillionaire lifestyles and celebrate both success and fame on this track produced by ATL Jacob.
They say never mess with something if it works, and throughout the years that has been the case. THE WIZRD creatively sums up what Future has done over the past decade with the similar sound and flow alotted into his tracks. This album suits the diehard Hendrix fans which drives them " codeine crazy ". The pain and passion that is devoted to the writing of this soundtrack are one of its kind. Although this being Future's last studio album under contract with Epic Records, it lacks the growth of an artist that Future has had, from his initial album, Pluto. I would've liked to witness an eccentric new album with fewer songs. I was also disappointed with the song " Unicorn Purp " which did not live up to my expectations set by the past Thugga and Future collaborations on SUPER SLIMEY and the continuous recent hits done by Gunna. Overall, I believe this is an okay album with potential playback and I would rate it a 3.5 out of 5 stars. (:
FAV TRACKS: Crushed Up, Never Stop, Promise U That, First Off
LEAST FAV TRACK: Unicorn Purp
3.5 out of 5
The WIZRD Tracklist:
01. Never Stop
02. Jumpin on a Jet
03. Rocket Ship
04. Temptation
05. Crushed Up
06. F&N
07. Call the Coroner
08. Talk Shit Like a Preacher
09. Promise U That
10. Stick to the Models
11. Overdose
12. Krazy But True
13. Servin Killa Kam
14. Baptize
15. Unicorn Purp (feat. Young Thug and Gunna)
16. Goin Dummi
17. First Off (feat. Travis Scott)
18. Faceshot
19. Ain't Coming Back
20. Tricks On Me
About the Writer
Victor Escobedo, Writer
Victor Escobedo is a Senior at Santa Fe South. This is his second year in Newspaper. Victor is a huge soccer fan, and his favorite team is FC Barcelona....